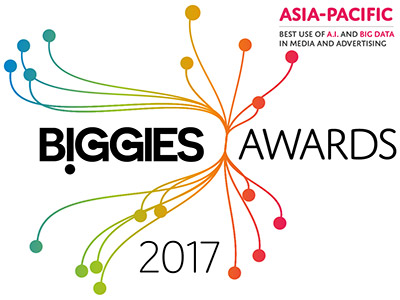 Call for Entries for the Asia-Pacific Big Data for Media's BIGGIES Awards has ended. Finalists will be announced in October 23
The annual BIGGIES Awards are focused on excellence in Big Data and Artificial Intelligence practices at media companies and advertising agencies in Asia-Pacific*.
The BIGGIES will be awarded to data practitioners from newspapers, magazines, websites, advertising and marketing agencies, news outlets, and media companies in general that produce Big Data and Artificial Intelligence projects, campaigns, products, and/or strategies in Asia-Pacific.
Big Data for Media is seeking "BIGGIES" Award entries from the Asia-Pacific region in English and Chinese.
Events sequence for the BIGGIES Awards:
The competition will be launched Monday, 10 July, 2017. 

Deadline for submission is Monday, September 18. 

Finalists will be announced October 23.

Winners will be announced at the Awards Gala at Thomson Reuters in Hong Kong on Thursday, December 7, from 7:30 p.m. to 10:30 p.m.
Entries can be submitted in either English or Chinese, and must have been published during the calendar year 2016, and until June 1, 2017. 
Important note: Entries submitted in Chinese shall include their English translation.
Submit your entries for the BIGGIES here: https:/BIGGIES.awardsplatform.com
Questions? Contact the BIGGIES Awards Coordinator Raquel Meikle here.